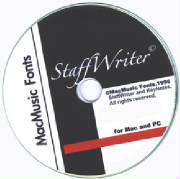 StaffWriter©KeyNotes©1996.MacMusic Fonts®.All rights reserved.

SingASign©2011.MacMusic Fonts®.All rights reserved.

Welcome to MacMusic Fonts,
the home of StaffWriter...
the original TrueType® music font specifically designed
for music educators and the word-processing environment.
Also, our newer font, SingASign...
the font that answers the question,
"Is there a music

font that types the Curwen/Glover/Kodaly
hand signs and stick rhythm notation

into
your word-processing program?"
The answer is "yes."
It's called "SingASign". So, now you know.
We're very excited to bring these two unique teaching tools to you!
StaffWriter©
&
SingASign©
for Mac & PC
Mac (OSX.3+)
PC (Windows+)
If you have an older operating system, please upgrade
your computer before installing our fonts.
***
You can type music symbols

into word-processing files,
and many other applications as well!
Purchase includes a layout map showing the location
of each symbol, right on the key that you'll type. The layout charts are called
"Quick Keys" and each font has one. The one for StaffWriter and KeyNotes
folds in half, making a handy flip chart to keep beside your computer!